The cofounders of satire site Reductress talk about how they're capturing people's collective rage.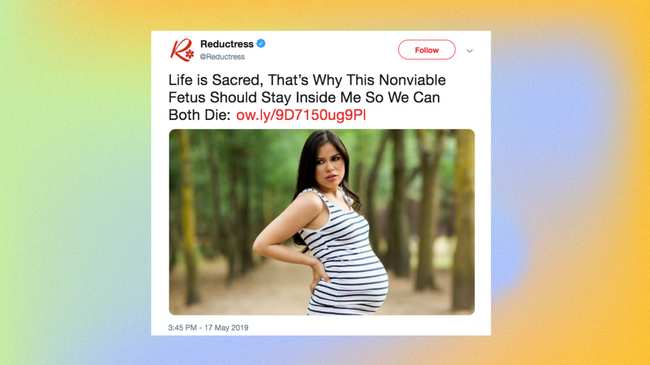 Reductress
What's funny about a total abortion ban? Very little. Yet last week, people were gleefully sharing the darkly humorous headlines and stories published by the women's satire site Reductress, guffawing at its acerbic coverage of the extreme anti-choice laws coming out of Georgia, Ohio, and Alabama to tens of thousands of retweets.
The site has been unsparing in its criticism. A favorite subject of the recent slate of stories is the conservative hypocrisy surrounding abortion legislation: "I Believe God Gave Us All Free Will—Except Pregnant Woman," reads one headline, accompanied by a photo of an Alabama Governor Kay Ivey grinning; "Senator Says the Only Acceptable Way to Kill a Fetus Is With a Gun," reads another; "Life Is Sacred, That's Why This Nonviable Fetus Should Stay Inside Me So We Can Both Die," reads a third.
Reductress lays bare the components of recent anti-choice legislation that amount to pure cruelty, like the lack of exceptions for rape and incest in Alabama's abortion ban: "Life Begins the Second a Girl's Uncle Decides on Incest," contributor Alexandra Ozeri wrote in a May 15th headline.
And headlines like "What Surprised Me Most About Becoming a Parent Was That I Was Forced to by the Government" are both funny and a punch to the gut—as some people on Twitter pointed out, the world in which these headlines simply reflect reality seems to have grown frighteningly near.